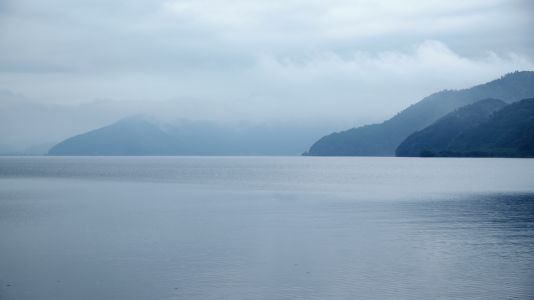 Biwako, the largest lake in Japan, about 200 km in circumference
Ever since I drove past Lake Biwa, I've wanted to go back for a longer visit.  It's a massive body of fresh water, the largest lake in Japan, and absolutely beautiful.  The long holiday weekend (Umi no Hi, Ocean day) gave me and the neighbors a good opportunity to visit.  
Riding around Lake Biwa is a popular bicycle trip, clocking in at about 200 km.  Usually, it's done as a 1 or 2 day ride.  We would be starting from Ibaraki, increasing the distance to about 300 km.  So, we gave it a 3 days, carrying all the gear to camp along the way.
As normal, above shows our full route.  I stuck to smaller roads whenever possible, but there are a few stretches where the only option was a national route.  Not much you can do about those.  Gear-wise, my pack list remained basically unchanged from the last trip.  I did get a packtowel, and a new jersey though.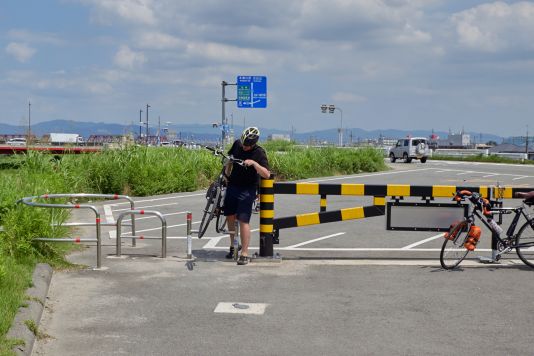 Bike gates, as much frustration as possible condensed into a pair of metal poles.
This trip was my first "opportunity" to ride through the bicycle gates which show up on all the bike trails.  They're just as aggravating as I thought they'd be.  You have to get off the bike, and lift the front and rear to clear the gate.  Sometimes you can get through the turn-style entry, but my bike is a little long for that.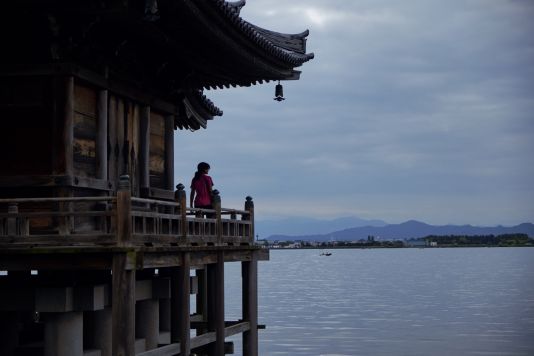 Ukimido Temple
Our first real stop along the way was at Ukimido Temple, famous for the pier structure you see above.  This being a tourist area, there was a charge to get into the temple grounds, which were small, but pretty.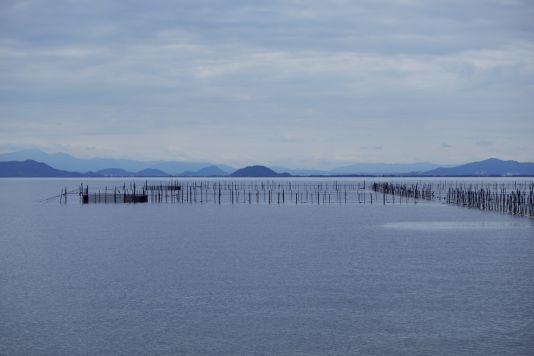 Lots of fish in Biwako, lots of fishers as well.
This is the south portion of the lake, which is pretty narrow.  More of a wide river really.  But, the north portion is much much wider.  I'm not sure what's up with the sticks in the water, other than it's used for fishing. You see them all over the place, in large lakes as well as in the ocean.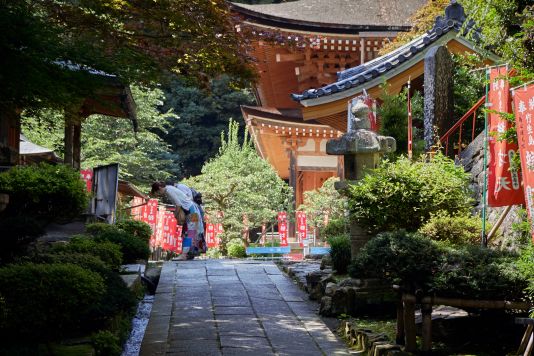 Hongonji Temple
As we headed north, we passed Shirahige Shrine, a quite famous tourist stop right off the main road with a tori gate in the water.  You pretty much can't miss it because there's no alternative road to take.  Then we stopped in Imazu where we ate lunch and took a boat over to an island in the northern section of the lake.  My wife Katherine came up by train to meet us on the island, and then headed back that night.
The island had a largish Buddhist temple and a not quite so large Shinto shrine on it, including a several story pagoda, and a tori gate that you can throw pottery at for good luck.  It was quite pretty, and had lots of lizards out sunning themselves.  
The campsite for the night was in Makino, and wasn't so awesome.  My general preference is to just camp in the woods somewhere, but I wasn't alone on this trip.  Priya especially liked the idea of having a shower of some sort.  Anyway, I don't recommend the Makino campsite, as Japanese campsites go it was expensive and not so nice.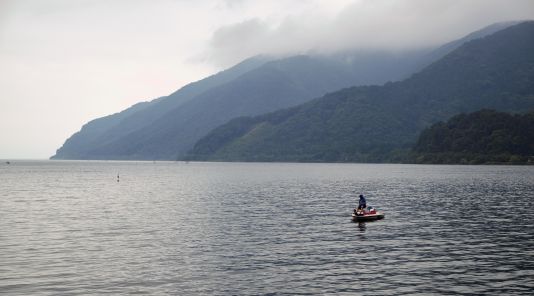 Rain doesn't stop fishers from going out fishing.
The next day, it rained off and on.  When the rain was on, it was pretty heavy.  The views of the lake were still pretty good, good enough that I didn't completely pack away the camera (I just kept it in a camera bag).  It seems to have faired ok.  
This was also the first real test of my waterproof bags.  I was pretty sure the Ortliebs in the back would be fine, but was a little worried about the tents in dry bags up front.  They did great.
Not too far up the road from the fisher dood there, we pulled over and took a little swim.  The water felt particularly warm, it was a nice swim.  But, then I was stuck in wet bike shorts.  Not so much of a problem.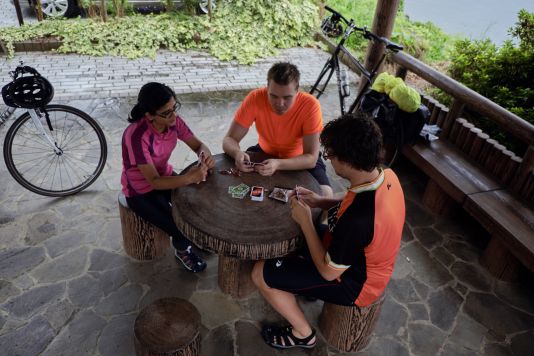 Uno, one of my luxury items.
We took a slightly longer, but smaller road called the Uko-Biwako Parkway.  Unfortunately, the parkways is apparently closed at night and doesn't open until 7:30.  We actually got there about 1 hour early.  
We considered jumping the gate, but went to look at a small shrine instead.  Then found a nice covered shelter to wait out some rain and play Uno.  When we started up again, the rain had stopped.  As soon as we got to the parkway, it started up again.  Really.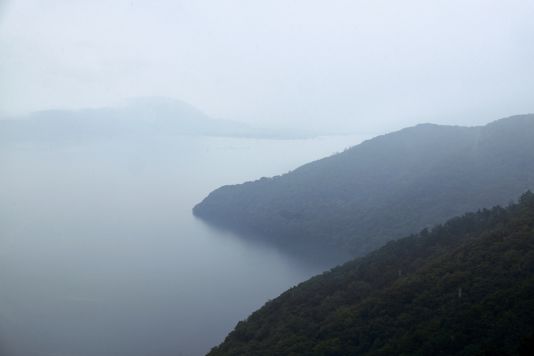 Misty lake views.
Taking the parkway adds about 15 km to the ride, and a fairly significant hill.  It is worth it.  The views from the northern end of the lake are some of the best, even in the rain, we found pretty views to look at.  The roads are also perfect for cycling, small, slow, and with almost no traffic.  
A small word of caution, Uko-Biwako Parkway is a one-way road from the summit heading east.  It looks like it used to be 2 ways at one point, but isn't anymore.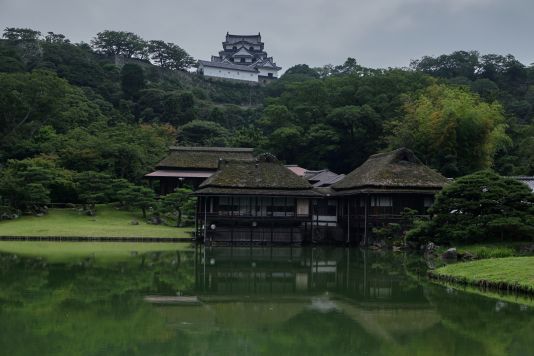 Hikone garden and castle.
Coming south on the east side of the lake, things get populated again.  There are cities, and roads, and traffic.  There are also 2 castles.  The one in Nagahama is a reconstruction, and basically looks like a miniature version of Himeji castle.  The one in Hikone is one of the few original castles still standing (wooden castles have a nasty habit of burning down).  
We rode past Nagahama castle, but didn't bother stopping.  We went and explored Hikone castle a bit, and found it very worth the visit.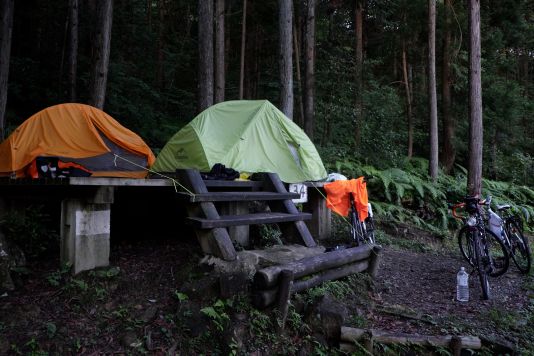 Kyukamura Campground
The campground we stayed at that night was a step up, but not the nicest place I've been.  There were trees, and more space between people, which was good.  But, it was surprisingly far from the water, and the campground was on a steep hill, so you had to pitch your tent on wooden platforms.  Sure am glad I have a fully self standing tent.
Also good news is that this place had an attached bath house of sorts, in a hotel across the street.  The cost of the bath for 3 people was actually higher than the cost of the site, which speaks mostly to how cheap this place was.  I'm starting to like baths at the end of a long day of cycling, especially at the end of a wet day of rain.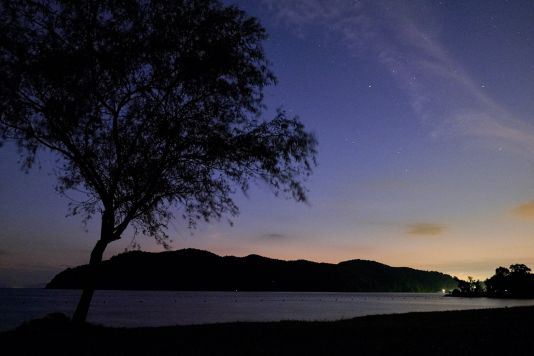 Predawn on the lake.
Early next morning, there were stars in the sky.  That meant a hot, clear day.  We should have gotten going early, but Erkki and Priya had a hard time waking up.  That gave me time to go take pictures of the sunrise proper as well as some star shots.
The roads for the 3rd day were mostly the big, heavy traffic sorts.  Not amazing riding, but not bad either.  There were even some pretty views.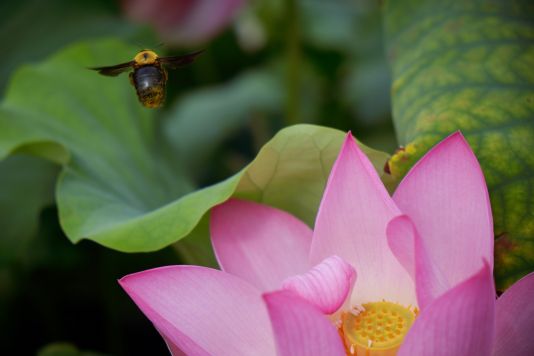 Mizumori Water Botanical Garden
Our last tourist stop was the Mizumori Water Botanical Garden.  This place was pretty cool, and I should go back sometime.  They specialize in water plants here, like lotus and water lilies.  Especially cool is that the lotus' were in bloom when we were there.
They also had a small cafe where we got second breakfast.  It was pretty typical park food, but they had free refills on all their drinks (not common in Japan).  That was pretty welcome on such a hot day.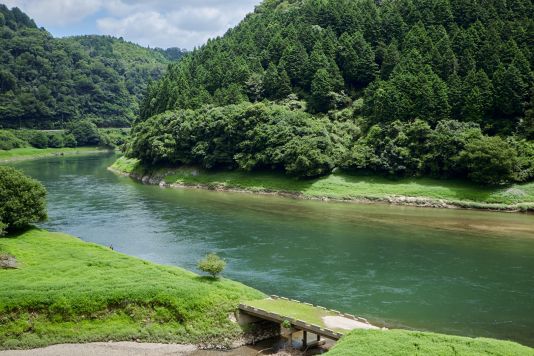 Seta river, a fine biking road.
The final treat was riding along the Seta river towards Amagase dam. This section was unexpectedly pretty. The road was also going every so slightly down hill, which made for easy riding and easy scenery viewing.
We ended the trip going through Uji, where we got lunch.  Then we followed the bike path (with all those bike gates) along the Yodo river into Ibaraki.  Finally, I ended up cooking dinner for everyone so that Priya and Erkki wouldn't have to go shopping.  I think they were pretty tired.