The stopping place each night was planned in advance so that Katherine could reserve a hotel for us to stay in.  Unavoidably, we'd be traveling during spring break in Japan, which marks the separation between school years.  Also, it turns out the Japanese love to travel, and spring break is a major family holiday (but not as major as Golden week, don't come to Japan doing Golden week).  In all likelihood, hotels would be sold out if we didn't reserve in advance.
Route planning itself was done using Strava's route builder tool.  It's a terrible tool which I could spend pages discussing, but Strava's heat maps are the single best way to find interesting roads to ride on.  The route can then be shoved on a Garmin thingy (I have a 520), and then you don't get lost.  After riding in Japan for a year, this is my methodology for finding good roads to ride on: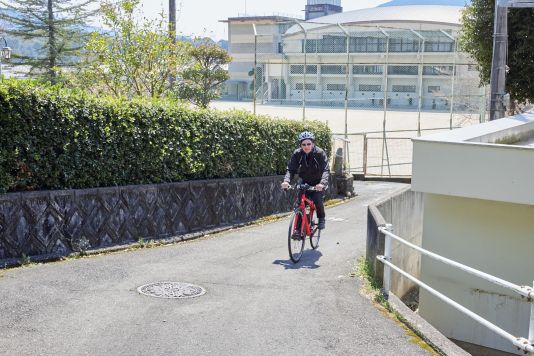 This is a typical, small Japanese road. Dad was pretty sure we were lost.
National Routes suck, don't ride on them.  These are marked on google maps and Strava with blue triangle shields and a number.  These roads have a shitload of traffic, and lots of lights in the cities.  In the mountains, they have less steep grades, but also have long tunnels which will threaten to asphyxiate you.  Provincial Routes (marked with blue hexagons) are much better for cycling on, use those instead.
Pick a route that someone in Strava has ridden.  If the road has been ridden enough to show up on Strava's heat map, it's probably in pretty good condition.  Warning, some of those people are crazy mountain bikers, some discretion is advised.  
If no one has ridden there, check google street view.  If google got a car down it, you can get a bike down it. 
If you don't like steep, follow the rivers.  A better plan is to just start loving hills cause Japan has a lot of them, usually in the most beautiful places.  Expect 12% grades, love 12% grades.

This is a National Route, who would want to ride a bicycle here?
The last part of the plan was that while me and my dad would take the trip by bicycle, Katherine would follow us by train.  She'd be carrying some equipment and clothes with her, helping lighten our load a bit.  This turned out to be a much more difficult task for her than I intended, and she hasn't let me forget it since.
Day 0: Pre-trip runaround
Dad flew into Kansai International Airport on March 20, nice and jet lagged.  The next day was busy, first order of buisiness was to buy a bicycle.  We ended up with a Bridgestone Cylva F24 in bright red for him.  This is a cross bike with flat handlebars costing 55,000 yen, frame made of an unknown metallic material, I think aluminum.  With the exception of a rack and clipless pedals, that red Bridgestone bike was ridden to Kyushu in exactly the state we got it from the store.  For such a cheap bike, it did a pretty good job on this trip.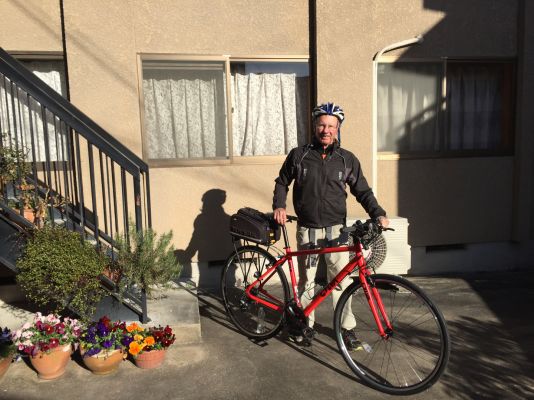 What a beauty.
We borrowed a rack and rack bag from the upstairs neighbors.  They had their brothers in town, and were off doing touristy shit that week anyway, meaning they didn't need the rack.  It was about this time that I discovered I don't own a torque wrench, and neither does anyone else.
Both of us used a single "Topeak MTX trunk bag DX" for all our shit carrying needs on the trip.  Dad actually crammed all of his clothing and equipment into the bag.  It was bulging, but everything fit.  I didn't, about half of mine was filled with camera equipment, and the other half with my warmer biking jacket (warm here is a relative term).  
In the evening of the night before we left, the landlord threw a party, because what do introverts love more than a party.  This is a fairly normal thing to happen when guests are over, and this time two people had guests!  There we were fed way too much food, which probably isn't a bad way to start a bicycle tour.
Day 1: Ibaraki to Himeji
The obvious way to go to Himeji from Osaka is to ride along the coast through Kobe.  It's the obvious way, but it also means riding the entire way through urban sprawl.  I guess some people like riding in cities, I am not one of them.  The alternative was to ride through the mountains along beautiful country roads and bypass Kobe entirely.  Yeah, we did that.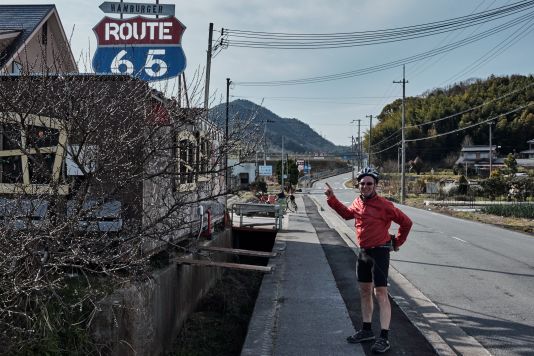 I didn't take any pictures in the pretty mountains on the first day. But, the route 65 cafe coming into Himeji? Yeah, that's worth a picture.
I've been to Himeji many times, the castle there is beautiful and white.  Himeji castle is one of the 12 original castles still standing in Japan, and probably the most famous of them.  You can tour the interior, if you do you'll get to enjoy an old wood building with no heat which has only tourists as decorations.  This time around, we skipped the tour.  For dinner, we grabbed food at a sushi restaurant near Himeji station.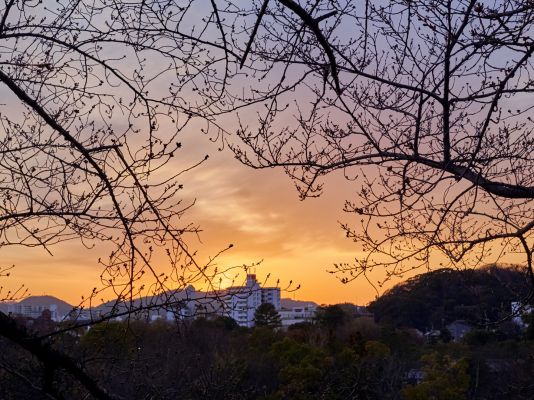 View from Himeji Castle at sunset. That sakura in front is definitely not blooming yet.
That night we stayed at the Toyoko Inn, a chain of business hotels in Japan.  They have small rooms, and relatively stiff beds.  Cost: 15,741yen for 3 people in 2 rooms, including breakfast (in Japan, hotels usually charge per person, instead of per room.  Also, I can't be bothered to figure out which of these prices include tax and which don't.)  Toyoko Inn has a membership deal going, which I have for myself but not for my dad, so he was more expensive.  Most nights, the hotels would have us store the bicycles in the covered parking of the hotel.  It's Japan, so theft issues are non-existent, you couldn't pay someone to steal your bike here.
Day 2: Himeji to Okayama
Unlike the US, hotel breakfasts are in general really good.  Usually I find them too big for me to eat, but there's nothing like some cycling to build up an appetite.  Typical breakfast included rice (always), sausages, eggs, some kind of fish, starchy sides, pickles, miso soup, and bread.  Tea is guaranteed, but coffee is a little more questionable.  There's always a hot water dispenser in the room, but rarely any coffee.  Knowing that my dad would need a morning java infusion to get moving in the morning, we brought a stock of Blendy Sticks with us.  These can be found at any grocery store, and (in smaller quantities) convenience stores.  As instant coffee goes, Blendy Sticks are pretty damn good.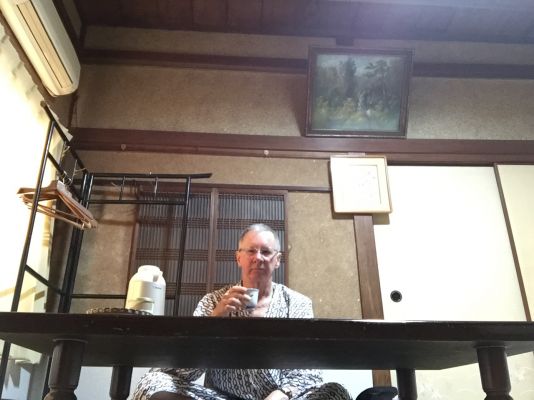 Dad was pretty excited when he discovered the thermos in the room was good enough to keep water hot till morning. No cold Blendy Sticks for him.
After getting out of Himeji, the route took us along the coast line, roughly following National Route 250.  This was a really pretty stretch of road which I highly recommend.  Traffic wise, Route 250 actually wasn't too bad.  

Near Route 250, along the coast of Japan.
We wanted to get into Okayama a little earlier, so that we had time to visit the garden there.  So around Katakami we deviated from the planned route (which followed smaller roads) and followed 250 the rest of the way into Okayama.  The stretch shared with National Route 2 was shitty, lots of big trucks avoiding the tolls on the express way.  Don't ride on Route 2.  
We got to Okayama and Korakuen around 3:30 pm, earlier than expected and well ahead of Katherine on the train.  This garden is one of the 3 most famous in Japan.  Early spring is not the best time to see it (nothing is in bloom yet), but it was still very pretty and worth visiting.  Dad in particular liked the Japanese way of purposefully placing things in a haphazard style.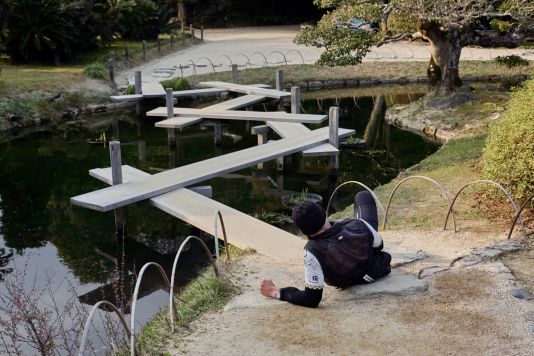 Inspecting the haphazard purpose of this bridge.
Dinner was at a fairly typical izakaya (Japanese tavern), which served tasty appetizer type dishes, along with beer and other drinks.  These are pretty great, except that they often allow smoking in the restaurant, someday Japan will get with the times.  We stayed at the Okayama View hotel, which is extremely poorly named (there is no view).  Hotel was 14,700 yen for 3 people in 2 rooms, breakfast was as extra 900 yen per person.  However, breakfast was extremely good, the best on this trip.  A major reason being that the fish was cooked individually and served fresh, instead of cooked in batches and then left to sit for a long time before serving.
Day 3: Okayama to Onomichi
In the morning, instead of following 162, Katherine recommended we follow a bicycle route through the Kibi plain.  This would take us past a few famous Shinto shrines and Buddhist temples.  So, we did that.  The ride was nice, and somewhat well marked to keep you from getting lost.  The stops along the way were big, but otherwise didn't stand out as particularly special to me (I've seen a lot of shrines and temples now).  The good news is that they weren't overflowing with tourists, so there's that at least.  From there, we followed the coast for a ways which was (as always) really pretty.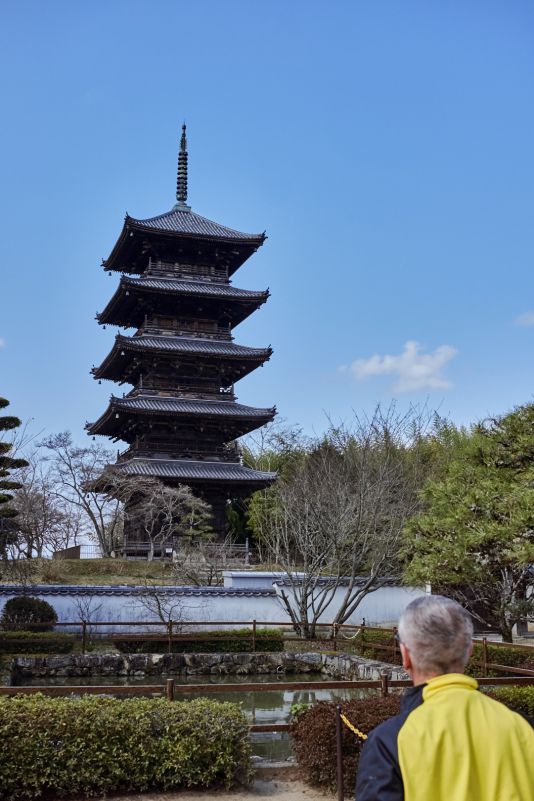 Bitchukokubun Temple's 5 tiered pagoda.
We had another deviation from the planned route.  Based on the experience from the day before, I knew riding on Route 2 sucked, so I used Katherine's laptop to get us off of it.  Strangely, I've heard of other people recommending riding on Route 2, I can only assume that they don't like riding on beautiful coastal roads, and prefer to look up the tail pipes of large trucks.   
In the afternoon, we came across my favorite shrine of the trip, a large, very red Inari shrine (Inari shrines are the ones with foxes).  Stopping here wasn't on the original plan, but the place was so big, and so red, that you could see it from miles away.  How could I not stop.  Apparently, my nephew thinks this place looks like a ninja castle.  He's probably right.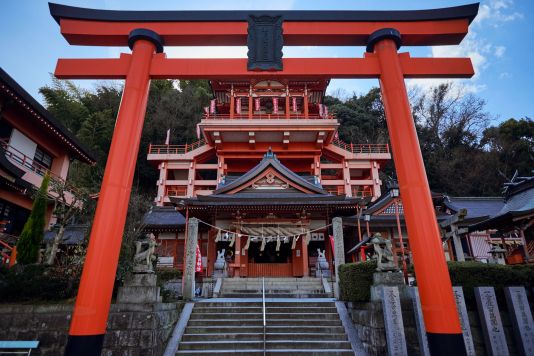 Shinto Shrine, or Ninja Castle? We may never know for sure.
We stayed at the aptly named Onomichi View hotel, which sits on top of a large hill next to the condemned Onomichi castle.  Typical pricing of 4860 yen per person for a single room, including breakfast.  Because this hotel is at the top of a large hill, getting there requires a bit of a detour, unless you like riding up stairs.  There's not a whole lot at the top of the hill other than the hotel, and a temple, making food options limited.  Luckily the family running the hotel also runs a Thai restaurant there, so we had Thai food in Japan.  It wasn't very spicy.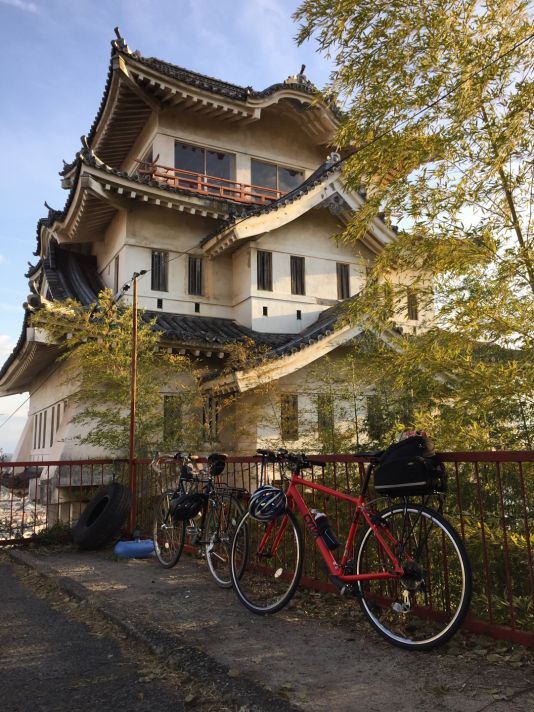 Onomichi View hotel, complete with bicycle parking next to a structurally condemned fake castle!
Katherine had to walk up to the hotel, dragging the rolling luggage behind her.  The walking path went up the steep side of the hill, and involved a lot of stairs.  I'll just say she wasn't so happy with the rolling luggage when she got to the top.  To make matters worse, while there is a continuous path from the bottom to the top, google doesn't know where it is.  Instead, google tried to route her through people's houses.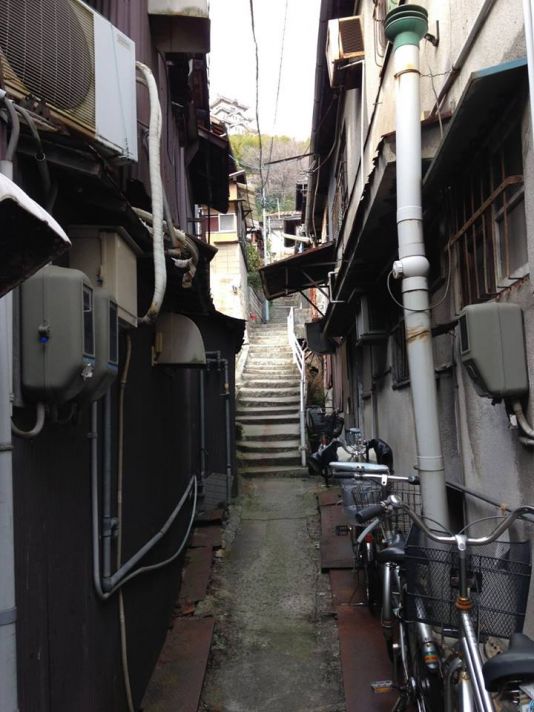 Yup, looks rolling luggage friendly to me.
Day 4: Onomichi to Matsuyama
There's a well known bike route which follows the Shimanami Kaito, crossing from Honshu over to Shikoku by way of a series of bridges.  We planned on this section of road being part of the trip from the get go, because nothing bad has every happened to me while riding a bike over a bridge.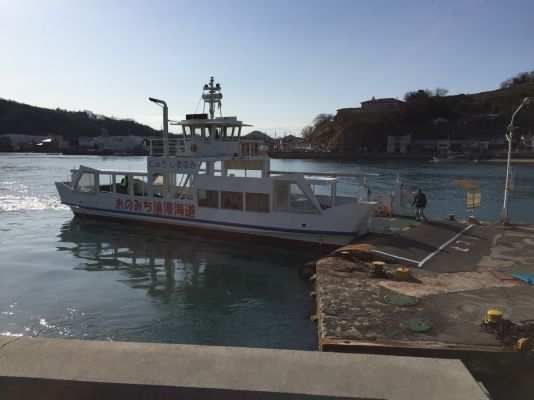 That's our ferry, room for about 2 cars, or plenty of bicycles.
The planned route had us going down the stairs (yeah, that didn't happen) and over the first bridge which happens to be off limits to bicycles.  Instead, you have to take a (very small) ferry across the first channel.  From then on, the bridges all have special bicycle lanes that are completely isolated from the murderous automobiles, sometimes on top of the bridge and sometimes below it.  Somewhere along the way, we stopped at a well known gelato shop.  Here they served "salt and milk" flavored gelato, it was cold but I had some anyway.  And it was awesome, it shouldn't have been, but it was.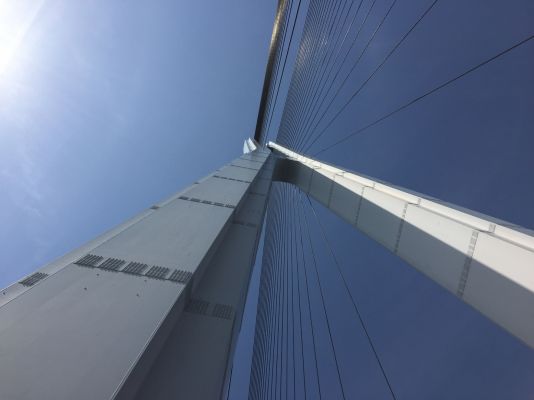 Shimanami Kaito bridges are big!
Bridge day ended up being my dad's favorite day of the trip.  I understand, the route was well marked (GPS, who needs that), and the bridges were pretty amazing.  Looking back, I wish we had stopped in Imabari (the other end of the trail) so that we could have spent more time looking at things along the trail.  That said, Katherine visited Imabari and reported that it's a rundown nothing of a town, which looks like it exploded in the 80's and hasn't seen any activity since.  
What we actually did was push on to Matsuyama, making this one of our longer days in the saddle.  We ended up getting a tail wind from the last bridge all the way into town, which is good because I was pretty damn tired.  I also wish we had spent more time in Matsuyama, I really liked that town.  It's big, but strangely personable.  In Matsuyama is another of the original castles.  Me and dad didn't have time to visit it (it's at the top of a hill, of course), but Katherine did.  She said she likes Matsuyama castle even more than Himeji castle, which is definitely saying something.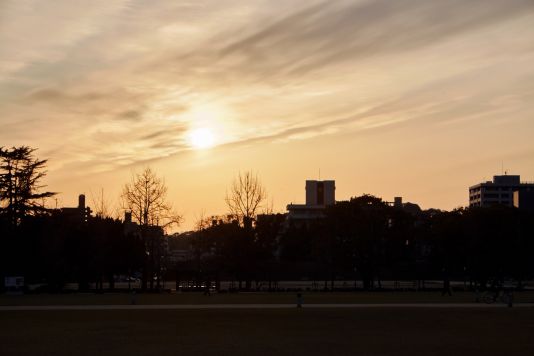 Sunset near Matsuyama castle. Too bad they close the castle at night, I bet castles are awesome in the dark.
We stayed at the APA hotel in Matsuyama.  Pricing was typical (15800 for 3 people in 2 rooms including breakfast), but the APA is a little fancier than most of the others.  For dinner, we went to an Italian restaurant.  I've been to a few of these in the past in Japan, and they've never been very Italian, but have always had amazing food.  This one wasn't so great.  All they served was variations of spaghetti, and the sauce (while being strangely Japanese) wasn't so awesome.
Day 5: Matsuyama to Uwajima
Somewhat by necessity, most of the route on this day followed National Route 56.  It was predictably shitty, complete with asphyxiating tunnel.  Don't ride on Route 56 in Shikoku.  It's not to say that the route wasn't pretty.  Pretty much everywhere in Japan offers you something interesting to look at, but other roads were definitely better.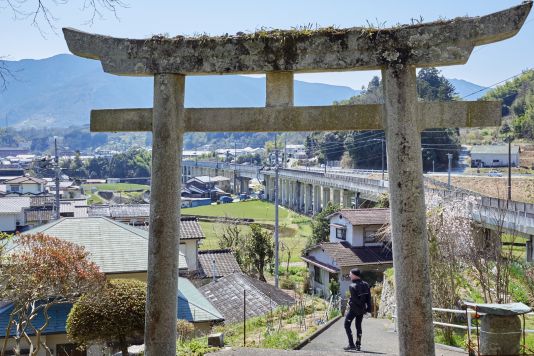 A small shrine in Uchiko, very typical of small shrines in Japan everywhere.
We stopped along the way in Uchiko (temple and shrine) and Ozu (castle) to see the sights.  Both were worth visiting, I liked Ozu more though.  In Uwajima, there is a shrine near our hotel which has (apparently) the largest stone torii in Japan.  It didn't seem that big to me, but what do I know.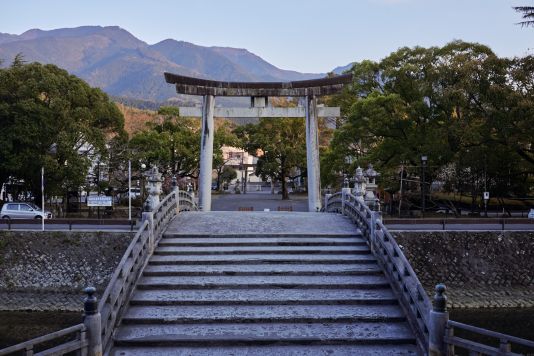 Apparently this is the biggest stone torii gate in Japan.
Uwajima isn't a big town, and we stayed in a rather forgettable hotel which was cheap (11,400 yen for 3 people in 2 rooms), but lacked breakfast.  There was a Lawson's convenience store attached to the hotel though, so we didn't go hungry.  For dinner, we first tried a yakitori place, and they turned us away.  Either they were racist and didn't like gaijin (unlikely but possible), or the restaurant was reserved for the night, I'm not sure.  We moved on to an Okonomiyaki restaurant which appeared to be part of an apartment complex (talk about nondescript).  The menu was almost impossible for me to decipher (no pictures) but the food was pretty awesome; totally go here.  
Day 6: Uwajima to Saiki
In order to get from Shikoku to Kyushu, we either have to fit the bikes for riding over ocean, or we can take a ferry.  The ferry departs from Sukumo 3 times a day, 8 am, 4 pm, and mid-night, and takes about 3 hours to make the trip.  I suspect it would take longer than 3 hours to make the trip by bicycle, probably.  
Because there was only really one of those three ferry departure times which we could reasonably catch, dad insisted that we take the shorted possible route from Uwajima to Sukumo, which was about 60 km along route 56.  I didn't want another day of riding on 56 with the trucks, and was pushing for following the coast line.  We ended up with something of a compromise, I reworked the route on Katherine's laptop to follow the coast whenever it wouldn't add too much distance.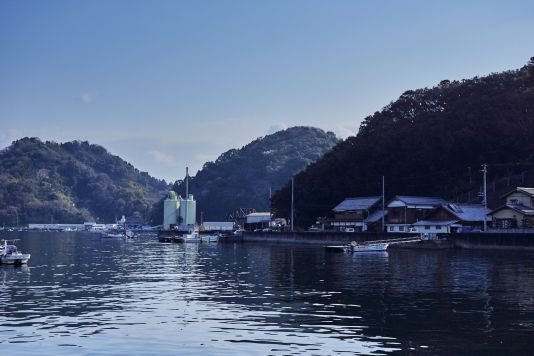 A Japanese fishing town which we would not have seen if we followed Route 56.
On Katherine's side, Uwajima held a surprise festival for her.  We didn't know the festival was happening, or we would have planned to be able to stay for it.  So, while Katherine was enjoying watching kids dressed up in cardboard samurai costumes make fools of themselves, me and my dad were enjoying the coastal fishing villages of western Shikoku.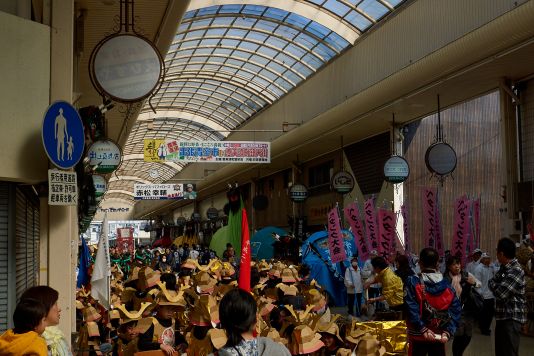 Cardboard samurai costumes, not embarrassing if everybody is wearing them.
The two coastal sections on small roads (following 269 in the north and 7 in the south) were really pretty, and I highly recommend them.  They did hold a few surprises though.  To start with, both had a killer climb to deal with.  The hill on route 7 was more difficult, maybe because I was already tired, maybe because it was a 12% grade for about 2 km.  The first hill I was slow on, but because no one else was stupid enough to ride up it, I have the 3rd fastest time climbing up the hill according to Strava (an accomplishment I don't expect to last).  As reward for climbing to the top of the hill, we found that the sakura along the coast bloom earlier than their inland cousins, and they were dotting the hills along the coast.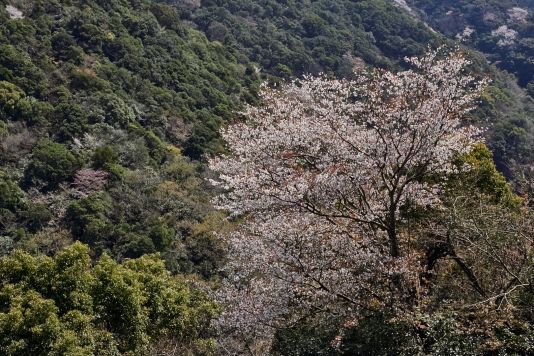 Finally, a few sakura which are actually blooming.
The other surprise was that at the top of the first hill, the long tunnel we needed to go through was closed for construction!  There were no construction workers there, there wasn't an obvious way around the tunnel, and we were in a little bit of a hurry to catch that ferry, so we didn't jump the barrier and go through it (I'm sticking with that story).  

Nope, we definitely didn't go through this tunnel.
We made it to the Sukumo ferry dock with plenty of time to spare, and were scrounging around for food when I got a message from Katherine.  She had to take a bus from Uwajima to Sukumo (no train for once), and the bus dropped her 2 or 3 km from the ferry dock.  Also, she was fed up with the rolling luggage, and about to leave it behind.  We rode over to help her out, and precariously strapped the rolling luggage to my rear rack using some elastic waistbands I had removed from my biking shorts (really).  It wasn't very stable.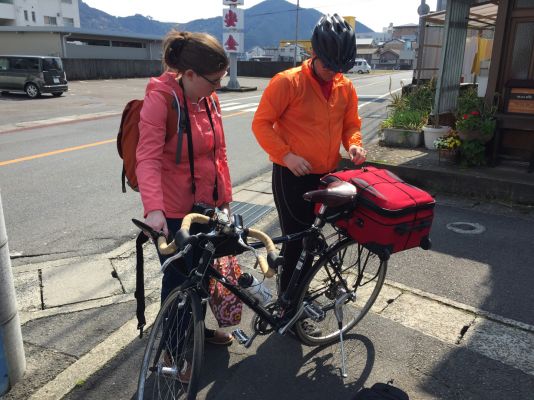 Looks sturdy to me.
On the way back to the ferry, we stopped at a convenience store for bentos for dinner.  Katherine had done some research and the ferry had vending machines, but no food, and importantly, no beer either.  When we got to the ferry, I got the exciting job of buying the tickets.  Since Sukumo is a very small town, instructions on how to do this were all in Japanese.  While I can speak some Japanese, the small amount I know mostly involves asking about the weather and ordering ramen.  Somehow, I successfully got us tickets for 3 people, 2 bikes, and a private room; the ticket lady seemed to disapprove of us getting a private room though.  

Sunset on the Sukumo-Saiki ferry, somewhere in the Pacific.
In Saiki, we had another 2-3 km ride to get to the ryokan we were staying at, so I got to take the luggage again.  This ryokan was pretty damn cool, and if you happen to be in Saiki, I honestly recommend staying here, it's an experience.  The original part of the building is about 100 years old, although the portion we actually stayed in was a bit more recent.  Rooms were very traditional: tatami mats, futons on the floor, yukata to wear around the house, the whole deal.  And the family that runs the place was extremely accommodating.  We got in at about 7 pm, well after dark, and the family was hanging out in front of the building with friends roasting oysters over a fire.  There they fed us oysters (of course), various types of dried fish, and Japanese liquor (shochu and nihonshu).  I even tried sea cucumber, which wasn't that bad (but wasn't that good either).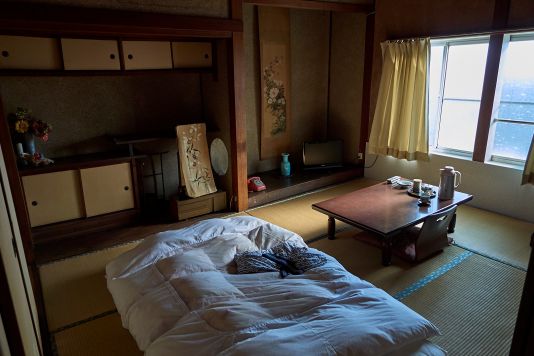 A traditional Japanese room, in case you've never seen one before.
The rooms were 4000 yen a person, but didn't include breakfast.  The ryokan had an attached cafe, but unluckily the cafe is closed on Mondays so they couldn't feed us in the morning.  I suspect they would have anyway, if we weren't leaving so early in the morning.
Day 7: Saiki to Takanabe
Our longest day at 125 km.  I had an alternate route planned which followed the coast line and added about 10 km to the journey.  Our biggest reason for not taking the coastal route is that it also added an unknown amount of hill climbing.  This was based on Strava's elevation gain estimate, which was complete bullshit, but the best we had to go on.  If this was a shorter day, I'd have taken the coastal route, but it wasn't, so we didn't.
The direct path took us along National Route 10, which was strangely devoid of traffic.  It turns out that the express way for the first portion of the day was toll free, which meant all the bigs trucks were driving on that instead of route 10.  We got a new, clean, and wide road basically to ourselves.  It was also really pretty.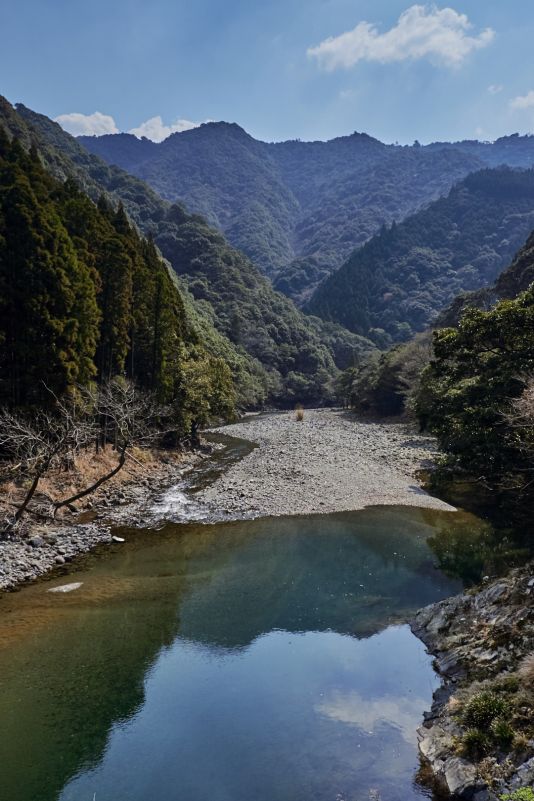 I wish all national routes were as pretty and abandoned as Route 10 in Kyushu.
We had one small deviation partway through the day to visit a famous shrine along the coast of Kyushu.  Here there were some geologically interesting rocks (apparently not so interesting for my dad), and a torii gate hidden in a seaside cave.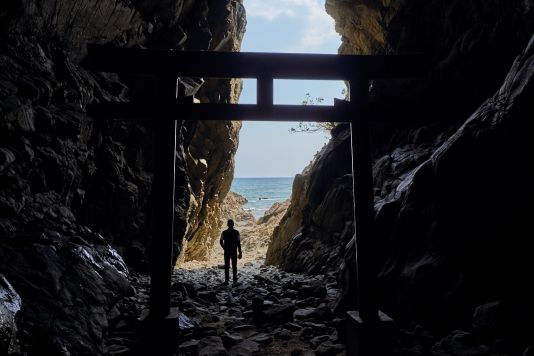 Tori gate in a cave on the sea.
In Takanabe, we stayed in another ryokan which was completely different from the last one.  The rooms were still traditional (tatami, and futons and all that), but the building was basically brand new.  They had a shared bathroom with a large shower area and stations for 4 people, plus a smaller women's bathroom as well.  Cost was 4500 yen per person for 2 rooms, and included breakfast.  For dinner, we went to an izakaya nearby for grilled meat on sticks.  The izakaya was all decked out in sakura decorations, even though the sakura weren't blooming yet in Takanabe.  
Day 8: Takanabe to Miyakonojo
I had the forethought to route us around Miyazaki to avoid a giant urban sprawl, and also had the route run us through some interesting places to stop and visit.  This was a great idea, but on the actual day, I had forgotten which places the route took us to.  It turns out we visited two parks and one old burial mound.  The second park in particular was really nice.  They had an entire hill full of sakura trees, which of course weren't quite blooming yet.  But, a few of them were.  At the top of the hill, they had a castle shaped lookout tower you could climb up for a view.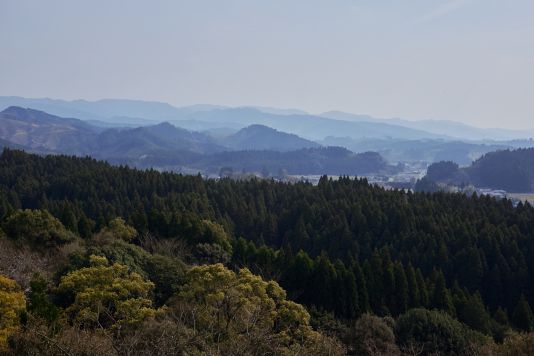 The view from the top of the castle shaped lookout tower.
The biggest adventure of the day was dinner.  I poked around on google and found a well rated izakaya, so we went there.  It was a tiny place, which was very easy to miss as you walked by it.  Inside, we were pretty much the first guests of the night, and their menu was all in Japanese with no pictures (my favorite).  Using my poor translation skills, I ordered us a variety platter of sashimi and some beer while I worked on translating the rest of the menu.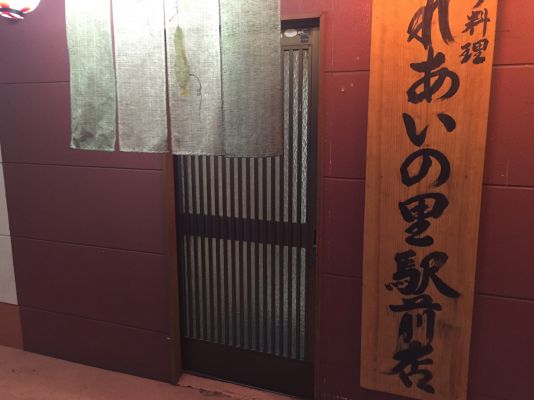 Looks inviting to me, we should eat here.
It turns out that 'sashimi' in this case wasn't raw fish, but raw chicken.  By dumb luck, we had stumbled into a "torisashi" (chicken sashimi) restaurant, which are rather rare because, well, raw chicken.  The sashimi platter I ordered included chicken breast and thigh (which were lightly seared), as well as chicken hearts, livers, lungs, and combs (which were less cooked).  I actually like torisashi,   The poor waiter was trying to get me to order some of their more cooked chicken, where they cook the chicken at the table over a small charcoal grill for you.  I did eventually figure out what he meant, but it took a while.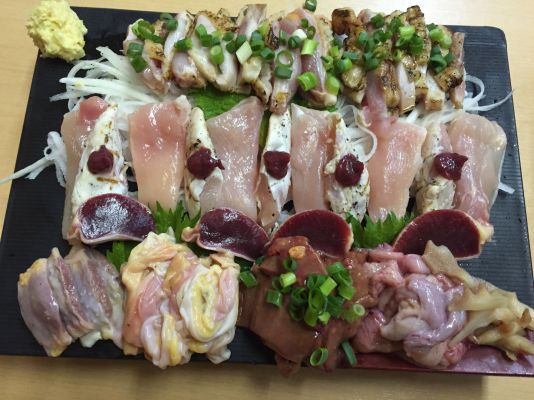 Japan, where even raw chicken guts are made to look appetizing.
This was not my first encounter with torisashi, but it was for dad and Katherine.  Since this time, I've talked with several Japanese people, and they're always amazed we ate it all (it was tasty).  It seems that even in Japan, they have reservations about eating raw chicken.  We stayed at a moderately fancy business hotel (15,200 yen for 3 people in 1 room including breakfast).  They were fully booked, so they couldn't split us into 2 rooms at the counter.  
Day 9: Miyakonojo to Kagoshima
Because one of the parks we visited the day before almost had wonderful sakura, we modified our route to visit another park and shrine famous for their sakura.  Just in case we got lucky.  We didn't, they weren't ready yet, but it wasn't such a bad place to visit.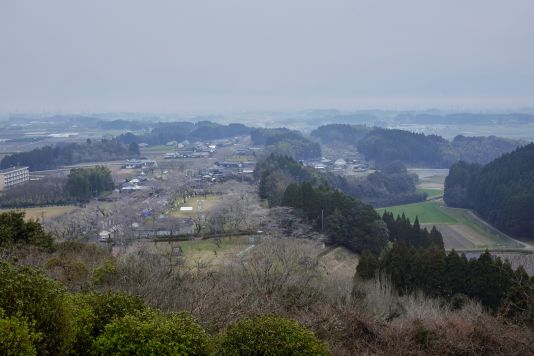 Those are supposed to be blooming sakura down there.
Right after leaving the park, and Miyakonojo, it started to rain on us.  Given we'd been on the road for 9 days, only having to put up with rain for 1 day isn't so bad.  Also, it didn't rain too hard.  My rain gear is pretty much my normal riding gear.  Instead of carrying a bunch of shit in a futile attempt to keep dry, I just always wear stuff that's ok getting wet.  So, when I'm riding in sandals with wool socks and synthetics, wet or dry doesn't really seem to matter.  
We met a guy bagging a bike tour on the way.  Kinda like me, he's living in Kyushu teaching english, except I don't live in Kyushu and I don't teach english.  He said the forecast had called for rain tomorrow, but not today.  And rain on 2 days of a 2 day tour is kinda shitty, so he decided to just head back home.  Because of the rain though, I don't have many pictures from the day.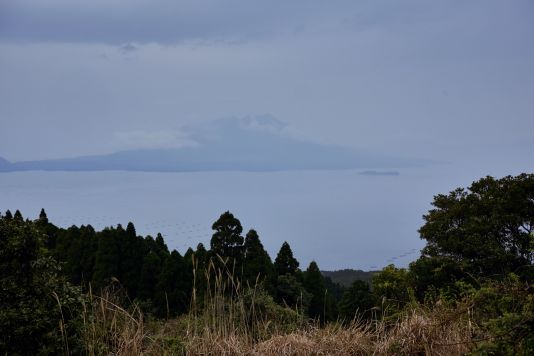 First view of the volcano.
Shortly after that we started out descent from high in the Kyushu mountains, to roughly sea level, about a 500 m drop in just a few kilometers (glad we were going down).  Because of the wet conditions, I went really really slow.  When we got to the bottom, dad remarked that his rear break seemed loose.  Mine did too, and on inspection back at the house, it was loose due to pad wear.  We were coming down a steep hill in the rain right next to an active volcano.  Volcanic ash mixed with water is super abrasive stuff, and it seems it accelerated pad wear quite a lot.  Both our pads were new before starting this trip!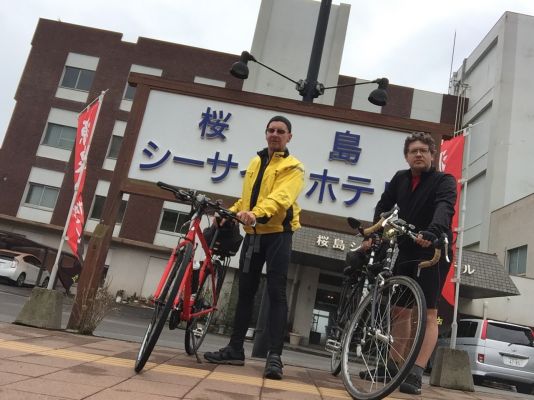 The last hotel of the trip, the symbolic end of the tour.
We passed by the hotel, and continued onto Kagoshima by ferry.  We needed to head over to the mainland to pick up Katherine, since there is no bus and no train on the Sakurajima peninsula.  We left the bikes at the train station, and rented a car (I have a Japanese driver's license), then drove back to the hotel.
Epilogue:
We spent an extra day exploring around Sakurajima.  It was raining harder that day, making me rather glad to be in a car.  The rain meant that the views were rather cloudy.  But, as luck would have it, while driving towards some vinegar fields, the clouds parted and the mountain erupted.  We also drove down to Chiran, which has a semi-famous street of old samurai houses.  Each house has a garden, which are small but quite pretty.  It is recommended if you're in the area.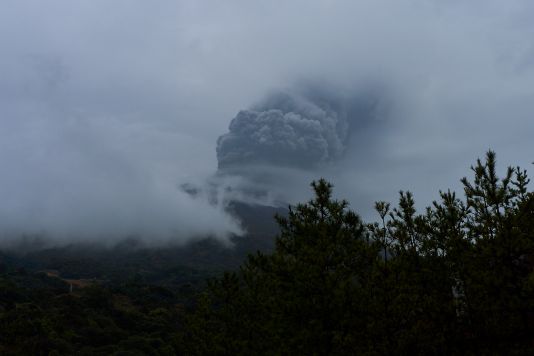 Yup, that volcano is very much alive and kicking.
The next day, we dropped off the car, picked up the bikes, and headed back to Osaka on the shinkansen.  In Japan, you can take a bike on the train, but it has to be bagged.  We picked up special purpose bags the day before at a bicycle shop, they were about 3500 yen each.  The bags were big enough for dad's red bike, but not really quite enough for mine which has a bit longer of a wheel base.  I made it work, but I'm not sure it'll work again.  We considered shipping the bikes via Kuroneko (they do that), but it was going to cost about 20,000 yen per bike.  In comparison, the train was free.  Carrying the bikes around the train station was a bit of a pain.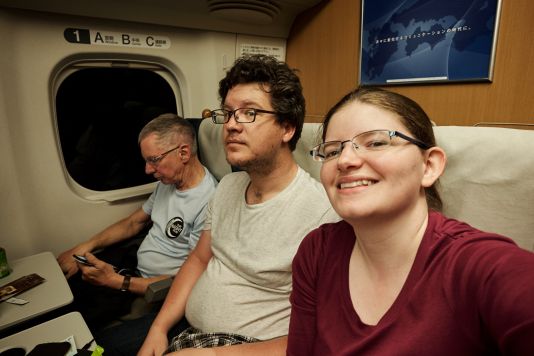 On the shinkansen back home. The bikes are behind the seat there, only possible on the farthest back seats in each train car.
Back in Osaka, the weather was beautiful.  The next day, we had a little time to spare, so we visited Banpaku Kinen Koen (Expo 70 park in english) where the sakura were out in full force.  It was quite a sight.  Then I dropped my dad off at the airport, and called the trip over.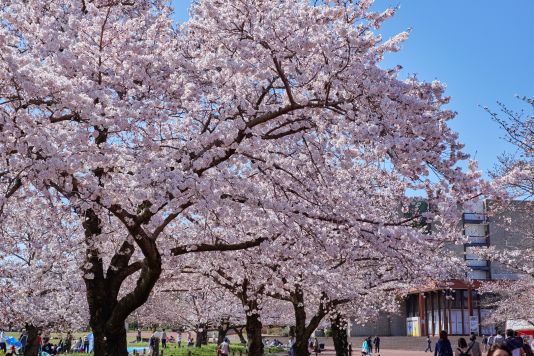 We had to get back to Ibaraki before finding lots of sakura.
Lessons learned:
90-100 km is the right amount of distance.  I can do more than that in a day, but when we did a little less we had more time to look at things.  Looking at things is sorta the whole point, so travel less far and see more.  Strangely, for the most part, hills don't matter.
Strava's elevation estimates are shit.  On average, for the 9 day trip, Strava was off by about a factor of 2 on elevation gain, always over estimating how much climbing we would do.  For example, on day 7 Strava estimated we would do 1668 m of climbing; my Garmin device reported that we actually did 886 m of climbing.  The estimates seem to be equally bad for large and small roads.
Convenience stores are too convenient.  You didn't hear me talk much about lunch because we always ended up getting it at a convenience store.  They're pretty amazing compared to US convenience stores, but the food they offer is pretty much the same all over Japan.  Looking back, I wish we'd taken more time out to try local eateries.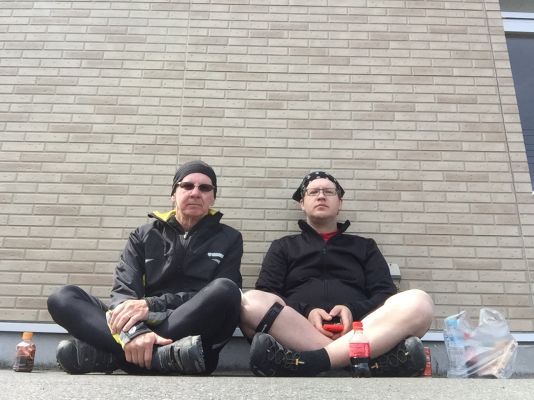 Typical lunch break outside some convenience store. A real restaurant would probably be nicer.
Rolling luggage sucks.  I really didn't intend for this trip to be difficult for Katherine, but it ended up being that way.  That said, having Katherine follow along with us on the train was pretty cool, and she got to see a lot of great things which we didn't see.  It's just the luggage that has to go.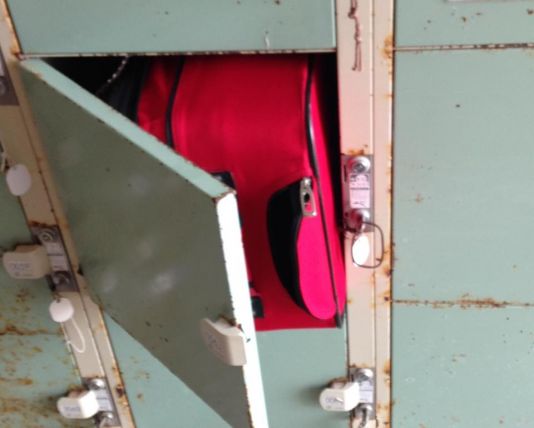 This was the explanation I was given as to why Katherine was abandoning the luggage in a locker room instead of storing it in a coin locker.
Tools, screw them.  On this 9 day trip, we had 0 mechanical failures.  Rashly generalizing to all other trips tells me that we don't need any tools.  In all seriousness, I'm not about to go on a tour without a patch kit and spare tube, but a full tool kit just isn't needed.  Looking back on what we used, I could have gotten by with a lot less, and saved Katherine a lot of weight.  I've now reduced my tool kit to a crank brothers multi-tool, a small Leatherman, and a set of finger amps.  We'll see how that fairs.  
I need more synthetic clothing.  While the tool box was heavy, and probably not needed, most of the suitcase was actually filled with my clothes.  I didn't take much, a pair of jeans, spare bike shorts and jersey, bike leggings, two t-shirts, and a light jacket.  The shorts and jersey were compact.  The bike leggings were really meant for winter, and are surprisingly big.  But most of the space was taken up by the cotton stuff, which just doesn't pack down as well.