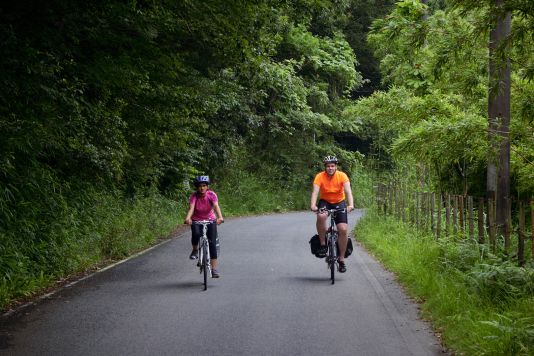 Erkki and Priya enjoying the easy trip home.
After recounting my trip to Sasayama to the neighbors, they decided they wanted to do a similar trip.  Of particular interest was the pizza restaurant I visited on the first day.  Neither Erkki or Priya had a lot of camping experience, so I shortened the trip a bit to make it a little more relaxed and enjoyable. There was still a bunch of climbing on day 1, but day 2 was almost entirely flat or down hill.
I used this trip to try and improve upon my last gear set.  First off, I got rid of the bivy and replaced it with a tent.  Then I ordered a pair of Blackburn Outpost cages, and then built adapters to fit them to my front fork.  This allowed me to carry the tent on the front fork.  The result worked out pretty well.  The bike was definitely more stable with some of the weight moved forward.  I was also able to take off the rear Topeak trunk, which was heavy.
I added some emergency equipment (a poncho, and a minimal first aid kit).  I also spent a lot of time weighing out all my gear, and carefully figuring out the lightest arrangement I could come up with.  Then I added a bunch of camera gear, completely wasting all my weight savings.  
Clothes: 1025 g
Emergencies: 1090 g
Tent: 1738 g
Sleeping: 857 g
Camera Equipment: 2342 g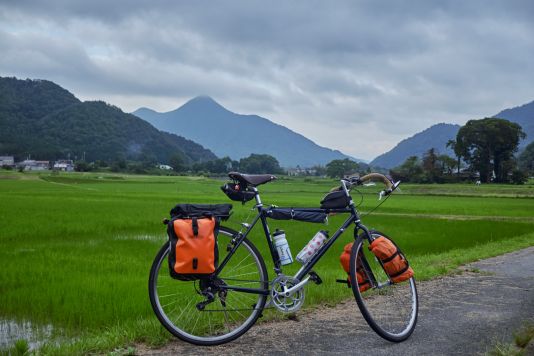 The new bike rig.
The route to the camp site took a pretty direct route to the camp site, which meant we had to go over 2 pretty significant hills.  To the camp site was a total of 1200 m of elevation gain.  It was a hot, humid day, and we started the trip a little late (around 7:30).  The climbs in the heat carrying weight were a little difficult, and we went though a lot of water.  But, everyone did great.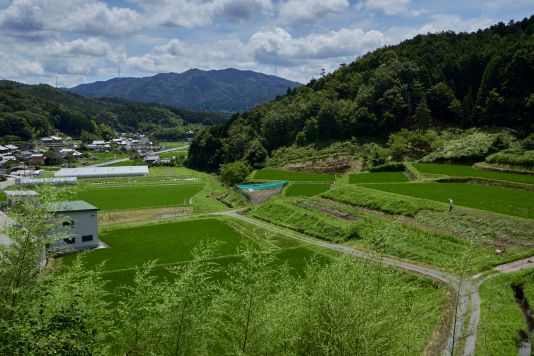 There were a lot of hills, but there were some pretty views too.
The camp site was about 50 km down the road (not so far really).  We made it there around 12:30, about what I expected but also before we were aloud to check into the site.  We also stopped at the wrong camp site (oops), there are apparently 2 right next to each other.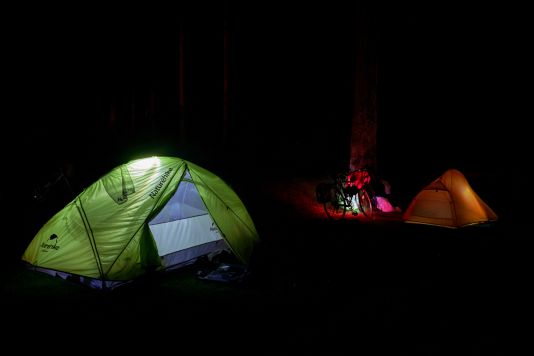 The camp site. In the dark, you couldn't see how close the neighbors were.
After getting the tents set up, we dropped our gear and rode down to Kawarunpei, the pizza restaurant.  This was only about 5 km down the road, but involved going over a pretty significant pass to get there.  The trip for pizza added about 300 m to our elevation tally!  But, food was good as expected, and very filling.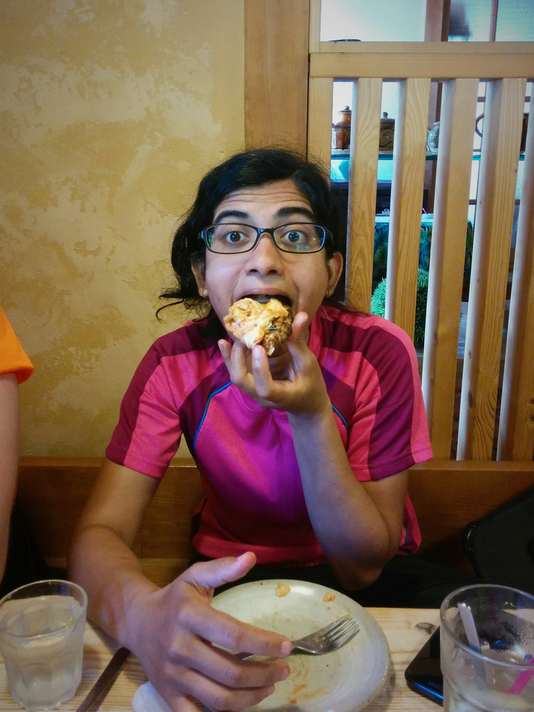 Back at the camp site, we enjoyed the many amenities they offered.  As camp sites go, this one was pretty premium.  They had full bathrooms, running (and clean) water, a BBQ area, and a full bath house!  The tent sites themselves were nice and flat grass over sandy soil (pretty ideal), but didn't offer much privacy between tent sites.  All of these premium features came at a premium price, we had to pay about 5000 yen for the 3 of us for 1 night (plus another 300 yen each for the bath).  Not my personal ideal campsite, but not such a bad option for a first trip.  
Strangely, for all the stuff that they had at the camp site, dinner wasn't one of them.  We didn't bring a lot of food with us really, and I didn't pack a stove (who needs one).  There was a small store at the camp site, but they only sold rice (uncooked), vegetables (uncooked), and ice-cream.  Otherwise we were limited to vending machines, which did at least offer hot coffee (yay!).  It was just as well that lunch was giant, and late.  Honestly, I didn't miss a good dinner.

Erkki taking a bath in the stream. Lather he'd also take a bath at the bath house which was warmer.
The next morning, we go going pretty early which meant more time in cool riding conditions.  The trip home started with us following route 37 down the Hatsuka river in long and wide valley.  This road was pretty spectacular.  There wasn't much traffic, and the gentle down hill made for easy riding.  It was also spectacularly pretty.  If you're in the area, I strongly recommend riding down this road, it's totally worth it.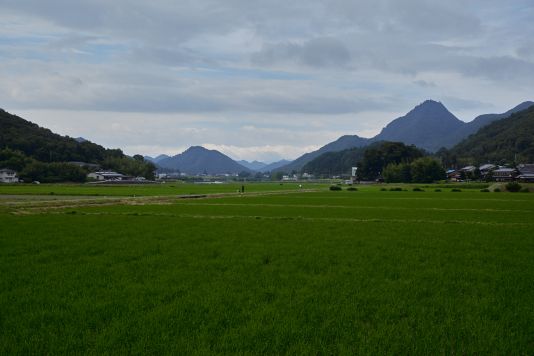 Miles of pristine valley road, with wonderful views and no cars. Yes please!
We stopped for breakfast in Manzen (near Inagawa) at a place called Cafe Manna.  We actually arrived a little too early, and had to wait around for 1/2 hour for the place to open.  They offered pretty excellent cappuccinos, and were definitely worth visiting.  
From breakfast back home was along roads we knew pretty well, and somewhat boring.  We did run into cool looking little car wandering through the Minoo back roads on the way home.  The final excitement happened near Minoo station, where I discovered my rear wheel was extremely low on pressure.  I pulled out my handy pump (Lezyne Road Drive) only to find I couldn't get air into the tire!!  Luckily, this happened in the city, and there was a bike shop 1 block from us.  The leak in the tire was super slow, so I just put air in it, and rode it home.  
Later investigation revealed that a thorn had pierced the side wall of the tire, and then stuck there filling it's own hole.  Even back at the house I couldn't get the pump to work.  It seems something has gone wrong with hose so that it won't engage the presta valve.  So, I guess I'm in the market for a new pump.