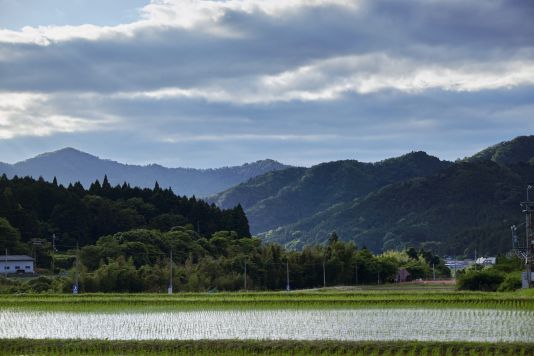 View from near the campsite.
The goal of this trip was really just to make myself do a self supported overnight trip.  Test out the gear, and confirm that my plans are going to work before going on an extended, several day trip.  A secondary goal was to visit a pizza place a friend of mine recommended.  
The route to Sasayama from Ibaraki goes through the mountains, there are lots of hills.  Below is a map of the entire trip, with some pictures and stuff.
My pack list is on the light side.  The bike has only a rear rack, and I'm using two Ortlieb front rollers for most of the storage.  The top bag (a Topeak thing) was used to hold my camera equipment, clearly optional.  
Sleeping:
Tent, old Gortex bivy (OR)
Sleeping bag liner, polyester. (no name)
90 cm inflatable pad (Mont-Bell)
Clothes
Bike shorts and jersey (on me)
Wind breaker
Light weight thermal under layer, top 
Light weight wool sweater
Convertible pants
Waterproof socks
Keen H2 sandals 
Miscellaneous 
Camera
Second Lens
Tripod
Cellphone
External battery
Flash light
Standard bike repair kit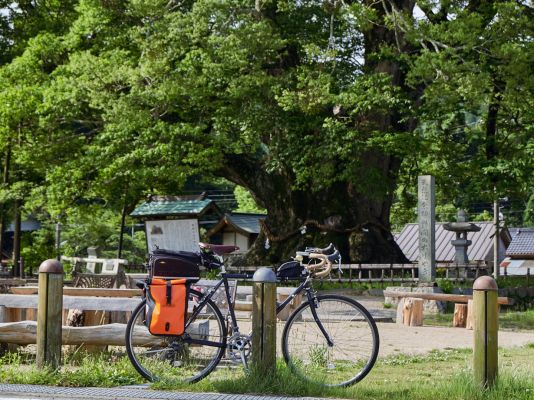 My bike, all packed up.
That list is from memory, so there might be a few mistakes.  There are a few glaringly missing items which I left behind on purpose; the sleeping bag, stove, and rain gear.
I don't get cold easily, and it's summer in Japan.  Also, I know from experience that the OR bivy ends up keeping the interior warm.  So, instead of taking a full sleeping bag, I just took a liner.  I had space for the bag though.  I needed to wear pants to stay warm, but otherwise it worked out ok.
I skipped the stove because it's heavy and bulky, especially with cook wear.  It's also expensive and I don't have one.  But, most importantly because this is a bike tour, I'll get hot food in restaurants along the way.  The stove's great benefit is that I can have hot coffee in the morning.  Hot coffee in the morning is pretty awesome, but I can do without.
Full rain gear is just not really needed, if it really rains, you're going to get wet.  Or, that's been my experience.  If the rain doesn't get you, your sweat from being enclosed in a rain suit will.  So, instead of taking all that shit, I just made sure that every bit of clothing I had with me was ok getting wet.  The exception is waterproof socks, which when combined with sandals work out pretty well.  Going forward, I think I'm going to go pick up a cheap plastic poncho from the 100 yen store, but I don't think I'll ever use it.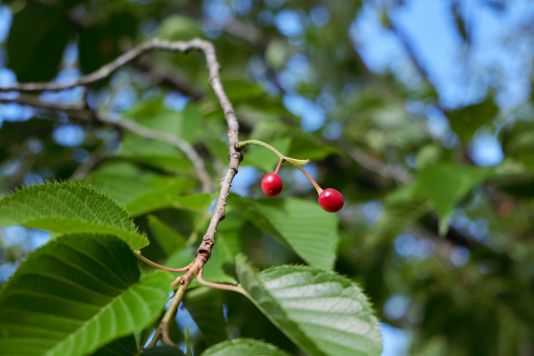 Around this time, the Sakura were producing berries. It turns out these are totally edible, but I didn't know that at the time.
The trip itself was a success.  I didn't die, and enjoyed myself along the way.  The weather was pretty close to perfect, and the scenery was (as always) very pretty.  The farmers were just planting rice, so the rows were extra straight.  
Going to the campsite was about 80 km with 1500 m or so of hills (according to the Garmin, Strava estimated that it would be more).  I left early to avoid the mid-day heat, and because I was awake.  Ended up reaching the pizza place at 10:30, which was when the opened.  It was a mighty fine pizza.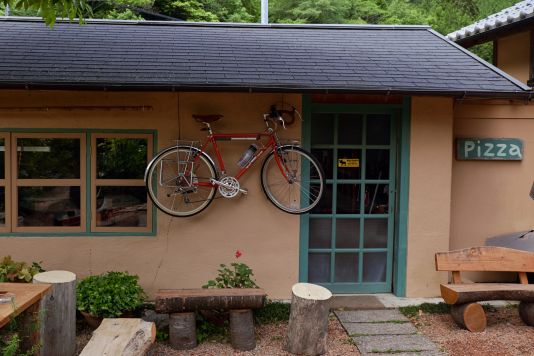 Clear sign of a bike friendly pizza place. It also served the best pizza I've had in Japan.
I got dinner at Giomu Super.  On my last trip to Kyushu, we ended up basically always stopping at convenience stores, and I didn't want to do that this time.  Conbini bentos aren't really that good, and are pretty much the same thing all over the country.  Supermarket bentos vary quite a bit more, and they're generally better.  Giomu Super isn't what I'd call a high class super market, but no questions asked, it was better than a conbini.  
I got to the camp site feeling great, with plenty of energy to wander around and look at things.  The camp site itself was pretty epic.  It was right on a wide spot in the river, with reasonably river access.  There were also bathrooms, and running water to be had, but no shower.  Camp space was plentiful, but I was the only person there, maybe because it was a weekday.  There was a gardener mowing the lawns, but otherwise I was by myself.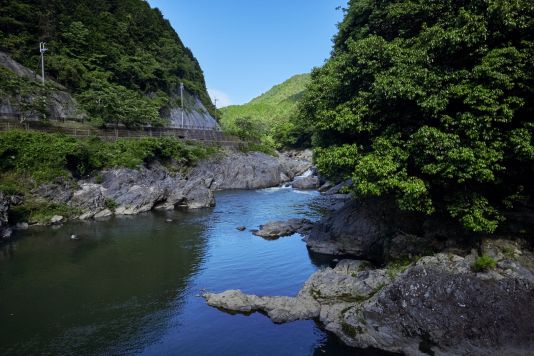 The river by the campsite. Not a bad place to spend the night at all.
I did not sleep well.  It wasn't because I was too cold, or only had a half mattress.  It was because I didn't have a pillow.  In my youth, that never seemed to matter, but I guess I'm not a teenager any more.  On the bright side, because I woke up in the middle of the night, I got to see the stars.  I haven't seen stars since I moved to Japan, turns out there's some light pollution in Osaka.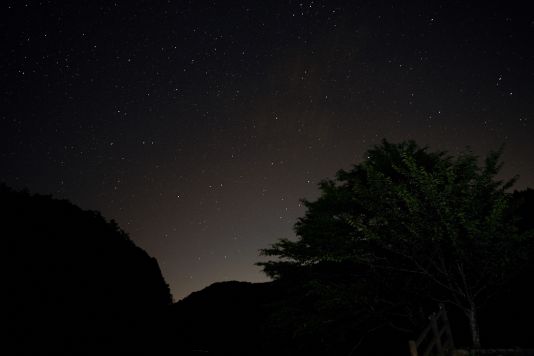 None of these stars are visible in Osaka.
Coming back was harder on me, maybe because of lack of sleep.  It was also longer, 90 km and 1500 m of elevation gain.  Because I was awake, I left basically once it got light out.  The route started with a very steep hill, which also offered what I think was the best view of the weekend.  Going up that hill, I stopped to take off the wind breaker and ended up leaving the camera by the side of the road.  I discovered my mistake about a km up the hill, when I tried to stop for a picture.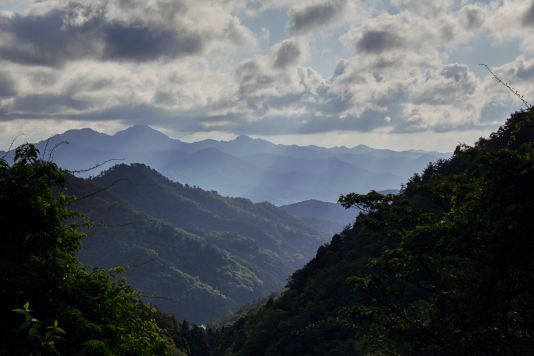 It's always a treat to get to the top of a hill and get a good view. Makes the effort somehow worth it.
The route back took me past Senjoji lake.  I was tired, and in a just keep moving kind of mood, so I didn't take any pictures.  I should have.  Along the edge of the lake were what looked like camp sites.   
For the entire trip, I did my best to stay off the national routes.  This backfired a bit on me in Kawanishi.  I was trying to stay off of route 477 (a big ugly road), and instead take smaller roads.  Apparently the smaller roads don't cross the city boundary though.  I did look on the map, and it looked like there was a path going though.  There is a path going through, but there's also a very not bikeable ledge along the path…  I was able to carry the bike over, so no real problem I guess.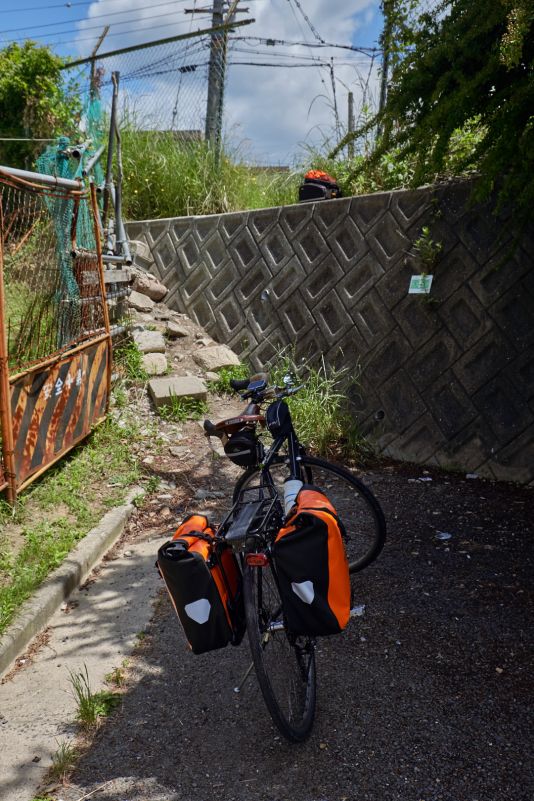 My routing skills are getting better, but sometimes I still make mistakes. Sometimes the mistakes are the highlight of the day.
The final challenge going home was big steep hill.  I knew this hill, and I also know you can go around it.  But, for some reason I thought going over this hill at the end of a 90 km ride while carrying weight was a good idea.  It wasn't, but it also didn't kill me.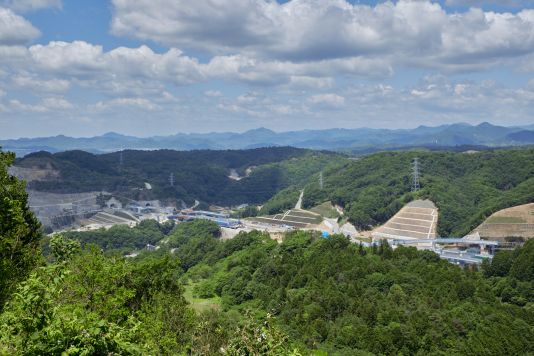 I'm sure that once upon a time, there was a nice view from the top of this hill. Now, you just get a view of the new expressway being built.
Lessons learned:
The OR bivy needs to go.  I never really liked it, but now the coating along the interior is deteriorating very quickly, especially along the bottom.  It's made the inside all sticky and gross. 
I need a pillow.  It will help me sleep.
I'd like to move some of the weight forward off the back of the bike.  As is, the bike is a little squirrelly, especially going down hills.